Poolside – About us
Our friendly staff ensure your pool is always looking good!

Poolside Buderim Pool & Spa Shoppe has been servicing the area since 1995, during which time we have attended annual BioGuard conferences in order to keep up with advances in technology and new products. Our team also attends Pool School, or Chemical Training Seminars, each year. We are committed to providing a professional service for all your swimming pool and spa needs. Customer satisfaction is our greatest incentive for continually upgrading our knowledge and skills. We are located in the heart of Buderim next to the Post Office. Use this map to get directions, click on the blue symbol.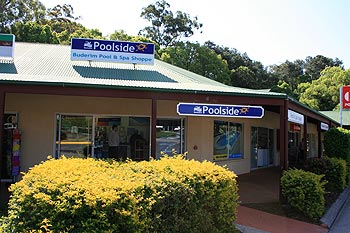 MOBILE POOL SERVICE Poolside Buderim Pool & Spa Shoppe offer you a mobile pool service. This can be a regular pool service, a holiday pool service or a call for us to sort out your green pool!
We will:
* Vaccum and Clean your pool
* Clean your skimmer and lint baskets
* Backwash and rinse filter
* Clean cartridge or DE Filter
* Clean salt cell
* Check pump and filter running times
* Check water balance
* Check PH Level
* Carry out a detailed Water Analysis
* Administer any required chemicals.
Please call 07 5445 8856 for enquiries or appointments
Buderim Poolside on Facebook
No recent Facebook posts to show