Poolside – Water Analysis
The latest water testing methods insure the best results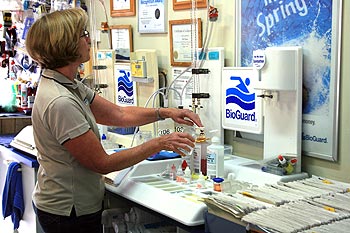 Safe, sparkling, algae-free water is the aim of every swimming pool owner and Poolside Buderim can advise on the best possible way to achieve that. We are the experts in water analysis and treatment.  Over fifteen years of experience ensures a complete understanding of swimming pool water chemistry and treatments. A free water test using electronic scan and wet lab equipment is carried out, and a printout is provided.  This dual testing procedure ensures complete accuracy not received with simple strip tests.  We  explain the test results and provide instruction on adding the treatment to the pool.  A monthly water test is recommended for all pools.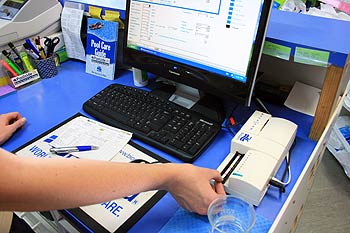 The same professional advice and free water analysis is provided for spa owners. We recommend BioGuard chemicals which are supplied by the largest pool and spa chemical company in the world.  Leaders in research and development, BioGuard are constantly striving to supply safer and more user friendly products for the pool owner. Our team attends annual chemical training conferences held by BioGuard, giving Poolside Buderim up to date knowledge on new products and technologies.
MOBILE POOL SERVICE Poolside Buderim Pool & Spa Shoppe offer you a mobile pool service. This can be a regular pool service, a holiday pool service or a call for us to sort out your green pool!
We will:
* Vaccum and Clean your pool
* Clean your skimmer and lint baskets
* Backwash and rinse filter
* Clean cartridge or DE Filter
* Clean salt cell
* Check pump and filter running times
* Check water balance
* Check PH Level
* Carry out a detailed Water Analysis
* Administer any required chemicals.
Please call 07 5445 8856 for enquiries or appointments
Buderim Poolside on Facebook
No recent Facebook posts to show