Poolside – Full range of Pool chemicals
Keep your pool clean and clear with our range of BioGuard products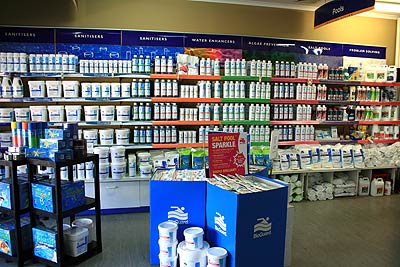 Poolside Buderim carry a wide range of premium products from BioGuard, the largest pool and spa company in the world, and many specialised Lo-Chlor products including stain removers, fast acting flocculant agents, and solutions to ease scaling problems in pools. Following detailed water analysis, a printout is provided with accurate recommendations for the tested pool water. We then explain the reasons for these recommended products and the best way to add them to the pool. It is vital to exercise safe handling and storage of all pool chemicals and always transport and store chemicals upright, especially acid based liquids. Always add chemicals to water in a bucket and never mix different chemicals together before adding them to the pool. Be aware of wind direction when adding powdered products to the pool.
See us at Buderim Central today!
MOBILE POOL SERVICE Poolside Buderim Pool & Spa Shoppe offer you a mobile pool service. This can be a regular pool service, a holiday pool service or a call for us to sort out your green pool!
We will:
* Vaccum and Clean your pool
* Clean your skimmer and lint baskets
* Backwash and rinse filter
* Clean cartridge or DE Filter
* Clean salt cell
* Check pump and filter running times
* Check water balance
* Check PH Level
* Carry out a detailed Water Analysis
* Administer any required chemicals.
Please call 07 5445 8856 for enquiries or appointments
Buderim Poolside on Facebook
No recent Facebook posts to show